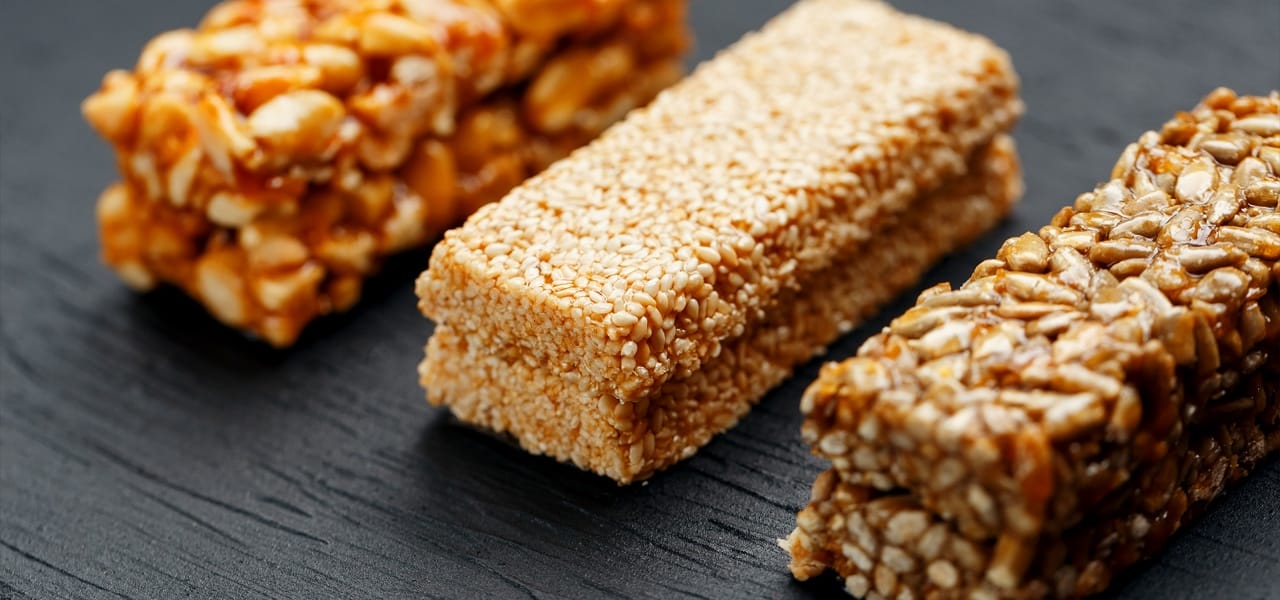 Destination: Health and Wellness
Seeking to meet this demand for health and wellness bars, manufacturers have launched new varieties reinforced with protein, probiotics, and energy-enhancing ingredients, along with bars geared toward ketogenic diets.
Protein-filled bars proliferated in the market in the last 12 months.
In March, General Mills, Inc.'s Larabar brand launched protein bars with 11 grams of pea protein each.
Flavors include chocolate almond butter brownie, apple pie, chocolate peanut butter cup and blueberry lemon muffin.
General Mills also debuted Annie's Cookie Dough Protein Bars in March. The bars are gluten-free with 6 grams of protein and 3 grams of fiber per serving. Flavors include chocolate peanut butter and peanut butter.
In June, Clif Bar & Co. launched Clif Whole Lotta Bars, made with fruits, nuts and seeds.
The soft baked bars provide 10 grams of protein each and are gluten-free, dairy-free, USDA-certified organic and GMO-free.
Clif Whole Lotta Bars come in four varieties: almond cake, dark chocolate salt, roasted peanut chocolate and spiced almond ginger.
Also, in June, Think! Glanbia PLC's Think! The business added three new varieties of high protein bars to its line, including berries and cream, coconut cake and double caramel.
The products contain 20 grams of protein and 3 grams of sugar or less.
In October, Post Holdings, Inc.'s Premier Protein brand introduced a range of layered creamy bars with 20 grams of protein and 1 gram of sugar.
Flavors include chocolate brownie, chocolate caramel, vanilla almonds, and chocolate peanut butter.
Probiotics also prevailed in this year's new bar launches.
Nestle SA's refrigerated GoodBe bars, which were launched in March, are formulated with granola, yogurt, fruit, nuts and probiotics.
Each bar contains one billion CFU's (colony forming units) of probiotics, 4 grams of protein and 220-230 calories.
Flavors include strawberry, vanilla, and blueberry.
Flapjacked, a manufacturer of high-protein pancake mixes, introduced its first line of ready-to-eat products in March.
The Flapjacked cookie bar is a nutrition bar baked with prebiotics, probiotics and 10 grams of protein per serving. Varieties include chocolate chips, chocolate peanut butter and chocolate brownie.
Kind Healthy Snacks focused on bowel health with its new line of breakfast bars in July.
Kind Breakfast Probiotic Bars contain 500 million UFC probiotic cultures per serving and are made with a blend of 100% whole grains including oats, brown rice flour, millet, buckwheat and amaranth.
Gluten-free bars contain 200-220 calories per serving of two bars and come in three varieties: apple cinnamon, orange cranberry and dark chocolate with peanut butter.
The new energy bars have also contributed to the growth of the health and wellness bar market.
In July, Quantum introduced Quantum Energy Squares, plant-based energy bars infused with coffee made from almonds, peanuts, organic quinoa, chia seeds, pumpkin seeds, and coconut.
The bars, which contain caffeine from the unroasted organic green coffee that is equivalent to a single espresso, provide 10 grams of protein and contain 200-210 calories.
Certified gluten-free and GMO-free bars come in three flavors: dark chocolate with peanut butter, mocha almond chips and coconut almond chips.
BeBOLD refrigerated energy bars were released in September, featuring nut butter, oatmeal, non-dairy chocolate chips, wildflower honey, chia seeds, Brazil nuts, walnuts, and dark maple syrup.
Available in almond butter and peanut butter varieties, the gluten-free and dairy-free bars each provide 18 grams of whole grains.
California prunes are the star of Fourpoints, a new energy bar that premiered in November and is designed to provide hours of sustained energy, the company said.
The 2.5-ounce bars provide 11 to 13 grams of protein and come in five flavors: Backcountry Banana Bread, Powder Day PB&J, Alpine Apple Pie, Mountain Mocha Espresso and Trailhead Gingerbread.
«California prunes have a low glycemic index, which means a slower rise in blood sugar that increases satiety to delay hunger during exercise,» said Leslie Bonci, a registered dietitian, sports nutrition expert and nutrition consultant for the California Prune Board.
"This makes prunes an ideal energy source. California prunes offer the nutritional influence of macros (carbohydrates and fiber), micros (vitamins and minerals) and phytos (polyphenols). They are small bites that add great flavor.
Bars made with friendly keto ingredients were also a trend in the last year.
In August, Zeno Nutrition launched a new line of friendly ZenoBars ceto in three flavors: strawberry nut, almond nut, and cocoa chips. Sweetened with alulose, ZenoBars are ketogenic, vegan and gluten-free energy bars designed for consumers with low glucose targets.
The bars are made with a strong dextrin binder made from organic tapioca and include plant-based ingredients such as almonds, nuts, sunflower seeds, pumpkin seeds, cocoa powder, and strawberries. Each soy and dairy free bar provide 8 grams of fiber and contains 3-4 net carbohydrates.
Think! The new Think! debuted. Peanut butter cake bar with chocolate and Keto protein in October.
Packed with 10 grams of protein, the 1.41 oz bar contains 4 grams of net carbs, 2 grams of sugar and 180 calories.
The gluten-free bar is sweetened with stevia leaf extract and erythritol and features peanut butter and peanut pieces in a thick chocolate coating.
REFERENCE: Rebekah Schouten, "Functional attributes central to bar innovation"Website https://www.foodbusinessnews.net/ Digital University Magazine [online]. April 12, 2019